Energy & Environment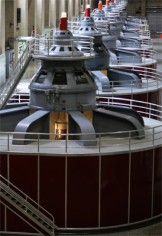 Today more than ever, we work alongside those who offer clean, easy, responsible, and low-cost energy. Thanks to a young and competent team who are aware of the social, ethical, and environmental relevance of energy development, we put at the disposal of the sectors of power stations, wind farms, and waste-to-energy facilities which make use of gas, steam, water turbines or of any other type of equipment a wide range of accessories and biodegradable synthetic and mineral products (such as hydraulic oils, turbine oils, compressor oils, bearing oils, gear oils, lubricants, greases, pastes, sprays, detergents, antifreezes, and anti-corrosives) which can guarantee maximum safety, reliability, and long intervals between lubrications.

We want to help you improve the overall efficiency of your installations. We also want to play a concrete part in the efforts to reduce CO2 emissions and to meet the objectives of the Kyoto Protocol by encouraging the development of economies of scale in energy production – for the safeguard of the environment.

This means that we want you to regard us as a trusted partner, i.e. as an all-round maintenance consultant who is capable of suggesting personalized solutions for minimizing your total costs and avoiding unplanned downtimes. Thanks to our serviceactivity – which includes predictive diagnostics, filtration, and fluid-management, i.e. a project which is based on consultancy, customer support and the implementation of a personalized maintenance schedule – we succeed in monitoring the operating conditions of your machinery and we help optimize the productivity and profitability of your company whilst showing full respect for the environment and all of us.

We are holders of the ISO 14001 environment certificate as well as of the ISO 9001 quality certificate, both of which are essential in order to be allowed to operate in this sector.

nils folder industry.pdf
Product selection Energy & Environment
We offer a wide range of products for the Energy sector. The properties of all these products remain unaffected at operating temperatures ranging from – 30 to + 120°C. What's more: all these products withstand dirt, dust as well as big temperature jumps.
Engine Oils

Hydraulic Fluids

Sprays

Greases

Pastes

Accessories

Gear Oils