Earthmoving & Transport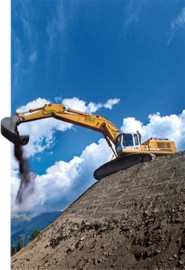 In accordance with our corporate values – sustainability, partnership, innovation, and efficiency – we'd rather become your trusted partnerthan remain a mere supplier. Put differently: we would like you to regard us as an all-round maintenance consultant who is capable of suggesting personalized solutions that help minimize your total costs and improve your production reliability whilst respecting the environment and safeguarding our future.

As far as the earthworks and the whole transport sector are concerned – i.e. with regard to equipment for quarries, lorries, excavators, cranes, the latest generation of semi-trailers, road construction machinery, asphalt machines, mechanical shovels, bulldozers and any other type of caterpillar vehicle, hydraulic cranes, special-purpose vehicles, buses, as well as merry-go-rounds and other amusement park equipment – we offer various specific products that have been formulated to avoid accidental machine downtimes due to lubrication-related problems, to optimize the duration of operating stresses, to reduce the top-up frequency, and to make the management of the production processes more cost-effective.

Thanks to our service activity which includes predictive diagnostics, filtration, lubrication schedules and fluid- management, we can monitor the operating conditions of the machinery and thus guarantee continuity and functionality. The range of services that we offer our customers also includes consultancy for warehousing optimization.

Moreover, we are holders of the ISO 14001 environment certificate as well as of the ISO 9001 quality certificate, both of which are essential in order to be allowed to operate in this sector.

nils folder earthmoving & transport.pdf
Engine Oils

Product selection Earthmoving & Transport
We offer a wide range of biodegradable products. The properties of all these products remain unaffected at operating temperatures ranging from – 30 to + 120°C. What's more: all these products withstand dirt, dust as well as big temperature jumps.

Engine Oils

Hydraulic Fluids

Greases

Gear Oils

Accessories