Agriculture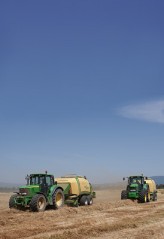 Our programme includes a strong environmental commitment for the well-being of the community at large. Therefore, in the agricultural sector, where each activity is closely linked with the production of food, we offer a range of biodegradable products which are made up of carefully selected raw materials and which are absolutely non-toxic.

What's more: all these products withstand dirt, dust as well as big temperature jumps and they can not only offer absolute safety but ensure long lubricating intervals on any type of machine, whether it is very old or brand new, whether it is a European or an American tractor.

Our lubricants have been designed in order to avoid accidental machine downtimesdue to lubrication-related problems, to optimize the duration of operating stresses, to reduce the top-up frequency and to make the management of the production processes more cost-effective.

We are a trusted partner and an all-round maintenance consultant. Thanks to our service activity which includes predictive diagnostics, filtration, lubrication schedules and fluid-management, we succeed in monitoring the operating conditions of the machinery. Besides, through our consultancy and the analysis of your maintenance schedule we manage to optimise the productivity and profitability of your company.

We are holders of the ISO 14001 environment certificate as well as of the ISO 9001 quality certificate, both of which are essential in order to be allowed to operate in this sector. If you have questions about this sector please contact us, or download the brochure for more information.

nils folder agriculture.pdf
Product selection Agriculture
We have a wide range of specific accessories and synthetic or mineral products at our disposal. The properties of all these substances remain unaffected at operating temperatures ranging from – 30 to + 120°C.

Greases

Accessories

Motor oils

Transmission oils

Hydraulic fluids